SPEEDCAT
SPEEDCAT
A game all about collecting coins and being faster than your friends!
How to Play
Can you be the speediest cat? There are 32 different "rooms" that you can explore. Within each room, there is exactly one (1) SPEEDCOIN that you can collect! Collecting the 32nd coin will immediately end the game and display your completion time and the number of deaths you had!

The coins can be collected in any order, so use your creativity to think of creative routes to get those coins even faster the next time! Or, you could attempt a no-deaths run! Share your high scores in the comments below to compete with the SPEEDCAT community! Join our Discord to discuss SPEEDCAT and much much more!
Modes of Play:
In SPEEDCAT, there are two modes: "Normal Mode" and "Hard Mode". The only difference between the two modes is that some blocks will blink on and off in "Hard Mode", making some jumps more difficult than in "Normal Mode". Other than that, the modes are identical.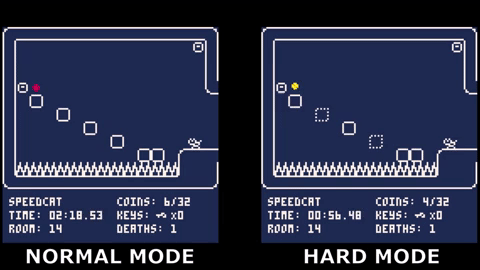 Controls
In-game:
Left & right arrow keys - move SPEEDCAT
"Z" or up arrow key - jump
In menus:
Arrow keys - navigate menu
"Z" - select option
PICO-8 menus:
"P" - open menu
"ENTER" - select option
Arrow keys - navigate menu
World Map

This is a handy reference in case you want to heavily optimize your route! Each square on this map represents one cel in-game (an 8x8 region). Here's a legend for what each color means:
White - walls / floors / ceilings
Pink - SPEEDCOINs
Bright red - spikes
Greyish purple - springs
Maroon - crates / pushable blocks
Yellow - keys
Gold - doors
Blue - teleporters
Grey - switch blocks
Dark green - buttons or levers
NOTE: This map is slightly out of date since version 1.1 was released. The map above is for version 1.0. I'll try to update it soon.
About the Game
SPEEDCAT has been my "pet" project for the past 2.5 years. It started as an experiment for me to learn more about how to detect and resolve 2d collisions. When I started, I didn't realize I'd be finishing the entire game!
I've taken my time on this game. Whenever I felt like my heart was in it, I'd put some work into the game, and whenever I was feeling burnt out, I took a break! So while it's taken longer to develop than the average development time for a game this size, I feel like this game is the culmination of all I've learned thus far in game development!

Playing on stream?
Do you want to play SPEEDCAT on stream or in a YouTube video? Go right ahead! Use #SPEEDCAT for your go-live or video announcements on Twitter so we can find your work! Also, don't be shy about joining the Discord... it's a great place to share your SPEEDCAT strategies, discuss game development, and more!
Credits
Developed by: Fletch

Written in: PICO-8

Background music composed by: Andrew Carlson
Playtested by:

Clark O Tron
Benny
Cowboy
Salayna (Sachi)
SpicyCheeseBite
Spak
PixelDud
DJF#1107
Claire Kascher - v1.1
Turd Boomerang - v1.1

Thanks to jacobpierce for their reproduction of the PICO-8 font for use in the trailer and other promotional graphics
Huge shoutout to my wife for all of her support and encouragement throughout the entire development process. Her words of excitement and encouragement helped me through many speedbumps!
---
Curious about the crab in Room 17? The crab's name is Sandy, an adorable character from Sandy's Great Escape, developed by Mocha Moose Games! Check it out here!
---
Check out my previous game, Mouse Maze!
Want to leave a tip? You can donate to my game development efforts on Ko-Fi!
I developed some of this game live on Twitch! We do cozy game development streams on Tuesdays at 3pm ET and play cozy games on Fridays at 8am ET. Come hang out!
Most of my game dev and content creation announcements land on Twitter. Following me on the bird app is the single best way to stay up to date on what I'm working on!
| | |
| --- | --- |
| Status | Released |
| Platforms | Windows, macOS, Linux, HTML5 |
| Release date | Apr 25, 2022 |
| Rating | |
| Author | Fletch |
| Genre | Platformer |
| Made with | PICO-8 |
| Code license | MIT License |
| Asset license | Creative Commons Attribution v4.0 International |
| Average session | About a half-hour |
| Languages | English |
| Inputs | Keyboard, Xbox controller, Gamepad (any), Touchscreen |
| Accessibility | Color-blind friendly, High-contrast |
| Links | Twitter, Ko-Fi, Twitch, YouTube |
Install instructions
VERSION 1.2 PATCH NOTES
added snow particle effect
re-skinned coins to gifts
added santa billboard
----
VERSION 1.1 PATCH NOTES
added ~130ms of coyote time (grace period after leaving a ledge in which you can still press the jump button to jump)
new block: platforms!
rebalanced room difficulty and flow to make it feel more natural
----
Just download the appropriate zip for your operating system and double-click the executable to get started!

NOTE: in order to take screenshots, you MUST download the executable. Playing in the browser restricts the "Press F6 to take a screenshot" feature.

Windows: speedcat_windows_v1.2.zip
macOS: speedcat_osx_v1.2.zip
Linux: speedcat_linux_v1.2.zip